Blendtec offers 2 options for Certified Reconditioned Blenders!! Blender Babes recommends the much less expensive Total Blendtec Classic for $279 and the Blendtec Designer Series for $379 – BOTH FAR LESS THAN WAREHOUSE PRICES!
REFURBISHED BLENDTEC ~ COST EFFICIENT
Blender Babes is dedicated to helping our community decide which blender model is the BEST choice for you, your family, and your wallet. The #1 reason why people do not (or cannot!) purchase a commercial blender such as a Blendtec, is because they are NOT cheap blenders!! We understand that $400 to $649 is out of many people's price range. This is why Blender Babes recommends Refurbished Blendtec blenders because they are the MOST COST EFFICIENT way to get one of these like new blenders, even surpassing the cheapest deals on brand new models found at Costco, QVC, or Amazon! We are going to review the different model offerings from Blendtec.
Once you choose the model and features that work best for you and your lifestyle, use any of the links in this review to purchase a Refurbished Blendtec and receive FREE SHIPPING** plus a $10 AMAZON GIFT CARD FREE GIFT from Blender Babes!! Use Promo Code BBGIFT and Make sure to email your confirmation purchase order to FreeGift@Blenderbabes.com to redeem your free gift. (Please Note: These are affiliate links and you must use our link last in order for us to receive credit!). It helps us keep our content free, and we are GRATEFUL for your SUPPORT!! ♥

** Free shipping is to USA and Canada Only!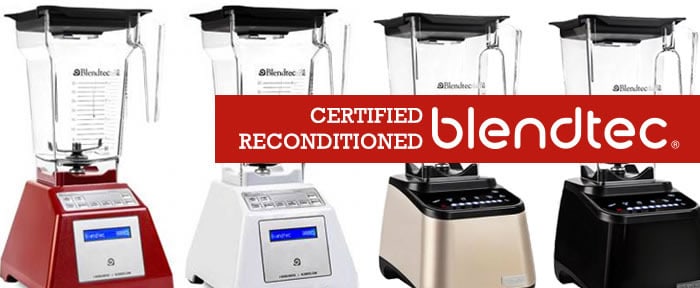 WHAT ARE REFURBISHED BLENDERS?
First I want to clarify the meaning of the words "refurbished, recertified, certified reconditioned". It all means the same thing. Basically, these are blenders that have been used during demonstrations, or are returns for whatever reason. Owning a Refurbished Blendtec translates to significant savings over the cost of a brand new Blendtec blender – yet when you receive it you won't be able to tell the difference!
Just like a pre-owned vehicle, Certified Reconditioned means these blenders have passed inspection and meet the high standards required by Blendtec. All broken or worn parts (including jars & lids) are replaced with new parts. Your blender will arrive literally in sealed like new condition, with a brand new recipe book (Blender Babes staff purchase many for gifts! We have lots of giveaways for them too!) The quality for a refurbished Blendtec blender is superb, and if anything happens down the line refurbished Blendtec blenders come with a full 7 year warranty. Purchase with confidence!
CERTIFIED RECONDITIONED BLENDTEC BLENDERS
♦ Note: Certified Refurbished Blendtec are only available in the USA and CANADA.
The Blendtec Total Blender Classic has a new price tag of $400. But guess what – this model is now discontinued and is no longer sold new. Why is it still the top recommended blender by Blender Babes?? Because you are getting MORE FEATURES with just as much power than the newer Classic models such as the Blendtec Classic 560 and Classic 575!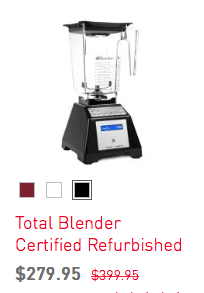 The Blendtec Total Blender Classic Features:
1560 watt 3.0 peak horsepower motor
SIX pre-programmed cycles including Smoothie, Ice Crush, Salsas/Batters, Ice Cream, Whole Juice, and Soup.
10 Incremental Manual Speeds
Pulse Button
lluminated display indicates remaining blend time
3 available colors: White, Black, Red
This blender also comes with their FULL 213 Page Recipe Book with tons of great recipes & tips for your blender. All new models come with Blending 101 with a handful of recipes, since a universal recipe book will not work now with different models all having different pre-programmed settings (if they have them at all) as well as different speeds.
In our #1 Blendtec vs Vitamix review, Blender Babes has always recommended refurbished Blendtec blenders as a more affordable way to own one of these blenders. Here's another reason why we LOVE this blender.
Blendtec has revamped their certified reconditioned blender program and you can NOW RECEIVE A REFURBISHED BLENDTEC TOTAL BLENDER CLASSIC with Wildside Jar FOR ONLY $279. You can also get the refurbished Blendtec Total Blender Classic with Fourside Jar for only $259! (Simply Choose from the Dropdown Menu!).
The original Blendtec Designer has a new price tag of $450. Another reason we are excited…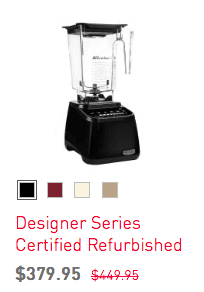 Blendtec is now ALSO offering this Designer Option refurbished. Similar to the Total Blender classic, the original Blendtec Designer Series blender is now discontinued! Blendtec has created newer Designer Series models, some with a few more features such as at the Designer 725 for $650 and some with less features, such as the Designer 625 for $480.
This original Designer Series blender has ALL THE SAME FEATURES listed above as the Blendtec Total Blender Classic, however it has a sleek innovative design with a touchscreen interface vs buttons (We like to think of it as an iphone vs a blackberry). It also comes with their FULL 213 page recipe book.
You can now buy the REFURBISHED BLENDTEC DESIGNER with Wildside Jar FOR ONLY $379!
WHY IT'S OUR #1 CHOICE
What we love most about these less expensive refurbished Blendtec options is you still get a SEVEN (7) YEAR WARRANTY, a 3 payment plan option AND Free Shipping + Free Gift by purchasing through Blender Babes! We believe it's a MUCH better investment than midlevel $100-$200 blenders such as Ninja and Nutribullet. Those blenders have 1 year warranties, not as much power or features, are not easy to use or clean, and cannot do all the same things that these Blendtec models can! Blendtec blenders are built to last, 15-20 years is the average life expectancy, the stainless steel dull blades makes for safe and easy cleaning and the push button technology allows for easy blending.

FINAL THOUGHTS
Blendtec's are considered the best blender for smoothies, which is why these are the same blenders that are used at Jamba Juice, Starbucks, and many of your coffee shops and smoothie shops. If you notice square jars laying around the store, those are Blendtec's. We strongly want to encourage you to buy one of these high powered blenders for you and your family's health. You will make WAY MORE than just smoothies, especially with our large collection of healthy blender recipes! Save hundreds off of their brand new models/pricing AND get free shipping by using the Blender Babes links + a $10 FREE GIFT from Blender Babes! It's definitely more affordable and helps people easily make the BEST investment in themselves, and their families' health.  When you purchase one of these certified reconditioned Blendtec blenders, you can be rest assured you are receiving the same quality that Blendtec is known for, in like new condition.
Did YOU Get A Refurbished Blendte? Let Our Community Know Your Experience and What You Make With It In The Comments. :)
To Your Health!
xoxo
Blender Babes
CONGRATULATIONS TO OUR HOLIDAY BLENDER GIVEAWAY WINNERS!
SARAH BOICE & CAROLINA RAMIREZ!