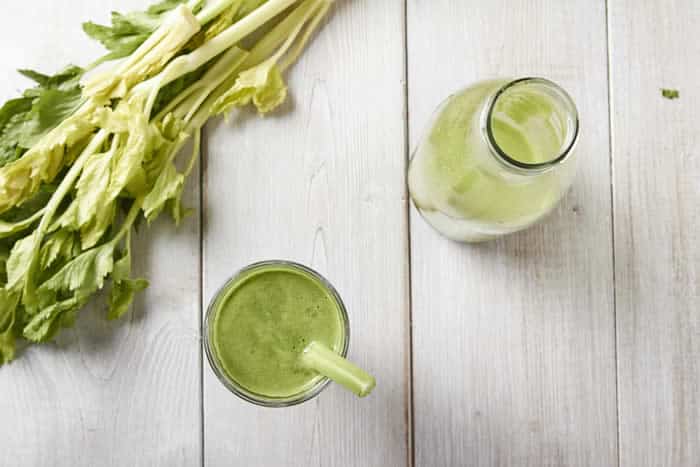 NATURAL ENERGY GREEN JUICE RECIPE
Simply put, this fresh green juice is simply a mixture of water and natural plant sugars along with inherent vitamins, minerals, and phytonutrients. Cinnamon is a key ingredient here, it makes this "green" juice especially tasty and provides tons of antioxidants as well as helps makes this a great juice for diabetics. This natural energy green juice is a quick and easy way to give your body tons of fantastic nourishment and sustained energy without having to eat pounds of fruits and vegetables. This whole juice will give you a sustained boost without the caffeine jitters most people are used to and you don't have to waste money on energy drinks full of iffy ingredients. Plus, if you're used to drinking excessive amounts of caffeine for that big energy boost (more than 500-600 milligrams, equivalent to 5-7 cups of coffee), your body will be dehydrated as a result…and that is not a good thing for our healthy bodies!

Don't have a Blendtec or Vitamix blender? That's okay, learn how to make this recipe using a regular blender. Be sure to join our community for more amazing Blender Babes original recipes!


Swimsuit by: Victoria's Secret Swimwear 


Natural Energy Green Juice

Ingredients
1 1/2 cup (12 ounces) filtered or coconut water
2 cups spinach
1 cup kale
3 celery sticks
1 banana
1/2 to 1 tablespoon cinnamon
1 cup ice
Instructions
Place all ingredients into the blender in the order listed and secure lid.
For Blendtec: Press SOUP* button.
For Vitamix: select VARIABLE, speed #1. Turn machine on and slowly increase speed to VARIABLE, speed #10, then to HIGH. Blend for 1 to 1.5 minutes, using the tamper to press the ingredients into the blades. Serve immediately.
Notes
* We use the SOUP button on the Blendtec with ice or frozen fruit since it runs for 90 seconds and will better liquefy produce into a juice vs smoothie consistency.
Nutrition Information
Serving size:
1 cup
Calories:
86
Fat:
.5g
Saturated fat:
.1g
Unsaturated fat:
.2g
Carbohydrates:
20.9g
Sugar:
10.6g
Sodium:
83.5mg
Fiber:
4.2g
Protein:
2.5g
Cholesterol:
0mg
HEALTH BENEFITS & FUN FACTS ABOUT CINNAMON

One tablespoon of
cinnamon
 has the same amount of
antioxidants
as 1 cup of pomegranate juice, which has even more than red wine, green tea, blueberries, and asparagus. Antioxidants help keep us
youthful, rejuvenated, & alive
. Cinnamon is an extremely
powerful blood cleanser
, as it has some of the best anti-bacterial properties ever seen in such a common spice. In addition, new research results are showing the great benefits cinnamon has on the liver, which too is vital for cleansing the blood. Cinnamon's scent alone offers
empowering effects in concentration /alertness / focus
. In one study, researchers found that a loaf of bread that had significant amounts of cinnamon was far slower to mold (as in days) than non-cinnamon counterparts. Cinnamon is one of the most powerful spices in terms of health and is likely sitting in your pantry this very moment. Give your body the royal treatment by enjoying the protective, cleansing, and rejuvenating health benefits that cinnamon, the Queen of Spices, has to offer.
Free Recipes, Tips, and Giveaways