SUN RIPPLE FUDGE HOMEMADE DAIRY-FREE ICE CREAM RECIPE
If it's a healthy chocolate fudge ice cream recipe you want, look no further!
Another fantastic recipe from The Spunky Coconut's best selling cookbook, homemade Dairy-Free Ice Cream, which has 75 frozen dessert recipes made without eggs, gluten, soy or refined sugar – our recipe testers couldn't get over how GOOD THIS WAS!
This is such a very creamy "nice cream" that you or your family would never guess it's dairy-free and vegan!
The consistency is that of hard-packed ice cream purchased at a summertime ice cream stand and it is decadently rich and tasty.
This gorgeous, velvety, rich dessert is so good after being initially blended that you will have to try not to eat it all then!
The perfect blend of salty-sweet, this healthy homemade dairy-free ice cream recipe will surely become a fast favorite for the entire family!
Use a high speed blender, like a Blendtec or Vitamix for the best consistency, and join our community for more delicious and healthy ice cream recipes from Blender Babes and our friends! If you try this recipe, let us know in the comments and rate it! 🙂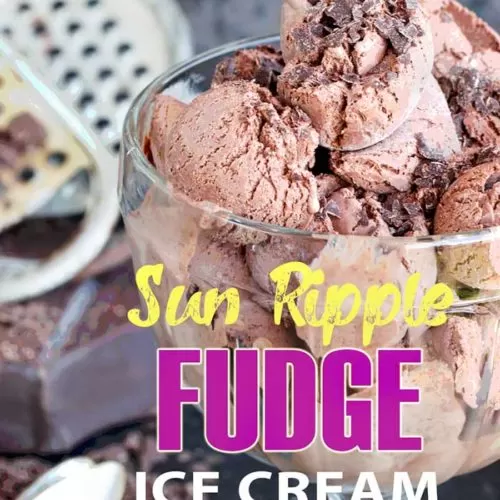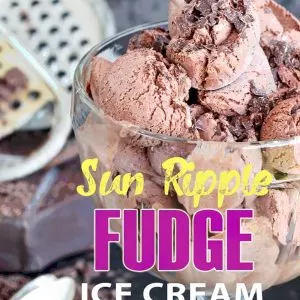 Sun Ripple Fudge Ice Cream
Ingredients
Ice Cream:
1

13.5-ounce can full-fat coconut milk

½

cup

water

1

tablespoon

vanilla extract

2

teaspoons

lemon juice

¼

teaspoon

fine-grain sea salt

½

cup

about 8 soft, pitted Medjool dates

1

cup

sunflower seed butter

without added sugar or salt (*see Notes)
Ganache:
2/3

cup

canned full-fat coconut milk

3

oz.

dairy-free dark chocolate
Instructions
Put all the ingredients except the Ganache in a food processor or blender in the order listed and secure lid.

For

Blendtec

: Press the SMOOTHIE button.

For

Vitamix

: Blend on Variable Speed 1, slowly increase to Variable Speed 5-6, and blend about 60-90 seconds or until smooth.

Pour mixture into a freezer-safe container and freeze for 1 hour to chill.

Pour mixture into an ice cream machine** and churn per the manufacturer's instructions.

While the ice cream is churning prepare the ganache.

A) Gently melt the chocolate chips and coconut milk in a small saucepan over low heat OR

B) Place the coconut milk into your high speed blender (must be able to heat contents) container and blend on HIGH for 2 minutes, until just the slightest steam comes off of the coconut milk. Chop up the chocolate and add to the coconut milk and blend on High for one more minute.

Transfer the churned ice cream to a freezer-safe dish.

Fold in the ganache to create "ripples".

Eat immediately, or cover and freeze for 2-3 hours, till firm enough to scoop.
Notes
*If sunflower seed butter proves hard to find, why not make your own?!
Recipe:
1) 3 cups of sunflower seeds (raw and unsalted).
2) Place the seeds in blender jar and secure lid.
3) Blendtec: For Twister Jar (easiest), Use SPEED 6 and turn lid counterclockwise during blending. For Fourside/Wildside Jar, use speed 5 or Medium and allow blender to run full cycle. Remove the lid and with a rubber spatula, scrape seeds towards center of the jar. If blade ever runs freely, stop machine, remove the lid and with a rubber spatula, scrape seeds towards center of the jar and use speed 5 and keep repeating until smooth.
4) Vitamix: Select VARIABLE Speed 1. Turn machine on and slowly increase speed to VARIABLE Speed 10/HIGH. Blend using the tamper to press the ingredients into the blades until you have a creamy seed butter.
5) Refrigerate.
** If you do not have an ice cream maker, freeze the water and coconut milk in an ice cream tray and add to your blender with the rest of the ingredients and blend on HIGH, careful not to over blend.
Nutrition
Serving:
1
g
Calories:
306.5
kcal
Carbohydrates:
28
g
Protein:
7
g
Fat:
18.3
g
Saturated Fat:
4.25
g
Polyunsaturated Fat:
9
g
Trans Fat:
2.8
g
Sodium:
106.2
mg
Fiber:
2.6
g
Sugar:
18
g
BLENDER BABES RECIPE TESTER NOTES
"I wanted to maximize the power blender, and make this recipe accessible for those who do not own an ice cream maker.
I froze the water and coconut milk, and blended the resulting ice cubes into the remaining ingredients.
The result was tamper licking good." and "This is a rich dessert, possibly the richest 'ice cream' that I've ever made in my Vitamix.
It's lovely with the ganache, but if one isn't a chocolate fan (horrors!), it is just as good without." and "For the ganache, I melted 1/2 cup dairy free chocolate chips with 2 Tbsp coconut oil and 2 Tbsp unsweetened almond milk" and "It was gorgeous!
This was my first time using sun butter, and I was surprised how delicious it tasted. It's fabulous with some chopped salted nuts (cashews are nice) sprinkled on top for some crunch." and "I liked this so much, that I have already added Kelly's cookbook to my Amazon cart!"

HEALTH BENEFITS OF SUNFLOWER SEED BUTTER
Sunflower seed butter is a versatile spread filled with nutrients retained from the whole seed.
It's also a good option for anyone allergic to nuts who must avoid peanut butter and other popular nut butters.
In fact, sunflower seed butter has significantly more unsaturated fat, magnesium, zinc, iron and vitamin E than peanut butter, according to the U.S. Department of Agriculture.
This is an important distinction in fats because saturated fat and trans fats contribute to cardiovascular disease, while unsaturated fats lower cholesterol and help fight inflammation.
Excerpted with permission from Dairy Free Ice Cream by Kelly V. Brozyna. Published by Victory Belt Publishing.