HOW TO MAKE PROBIOTIC & ENZYME SALAD – aka RAW SAUERKRAUT
If the thought of sauerkraut only brings to mind the thought of canned condiments on hot dogs, it is high time you tried making your own! Sauerkraut is not only a delicious way to use your cabbage, the laundry list of heath benefits leave no wonder why fermented foods have been a staple of the human diet for thousands of years. I first learned about the health benefits of raw sauerkraut after reading Kimberly Snyder's Beauty Detox Solution and trying her recommended everyday staple – probiotic and enzyme salad (aka raw sauerkraut). My first couple of attempts produced a soggy mess – however the relief I felt after eating it when I felt an IBS attack coming on – made me realize this was a MUST HAVE for my lifestyle. Previous IBS issues would knock me out of commission for days at a time and in very serious pain. Since incorporating probiotic and enzyme salad/sauerkraut into my diet – I haven't had an IBS attack in over one year! Not that you need to have digestive problems (see health benefits below) to benefit – eating raw sauerkraut will provide much needed probiotics for your gut as well as help PREVENT digestive issues.
Since the only place I could find it was Whole Foods – for a whopping $10-$20 per jar – I knew it was something I needed to get better at making! Obviously, making your own fermented foods is much cheaper than store bought brands, and best of all, it's kind of fun! I've worked out the kinks and I'm sure you can too. You can buy cabbage fresh and chop it yourself, however I prefer to buy pre shredded cabbage if possible to save time, since I am eating it for the fermented benefits, not the nutritional value of the cabbage. Also, you will need a few outer leaves of a cabbage, so make sure to still have a fresh one on hand (which most of you already do for smoothie recipes, right?!!)
WHAT YOU'LL NEED
♦ Large bowls (stainless steel ideal)
♦ Wooden spoon or tool that will fit through head of mason jar – TO MASH IT DOWN!
♦ Glass Jars (such as mason/bell jars) that have a lid
♦ Sea Salt – REAL sea salt such as celtic salt – not the processed stuff!
First Things First!
You MUST sanitize your glass jars! I boil water in a huge pot and add my mason jars and lids 3 at a time or so – and boil them for 10 minutes. I did find an inexpensive canning kit that I use to fish the mason jars/lids out of the pot. If there's rust on your lids you will want to get new ones/inserts. Lay them out to dry on some towels or paper towels and then get ready to stuff them (and I mean MASH DOWN!) with your cabbage mixture!
This is a recipe for basic raw sauerkraut, just cabbage and salt, but once you have got this down, get creative!
How Much Salt?
A good rule of thumb is 1/2 Tablespoon of salt per head of cabbage (or 1 pound/16oz of pre-shredded). The salt will pull the water out of the cabbage (through osmosis), and this creates the brine in which the cabbage can ferment and sour without rotting. The salt will also help keep the cabbage crunchy, by inhibiting organisms and enzymes that soften it. NOTE: Many people learning to ferment add too much salt and inhibit or prevent fermentation since TOO MUCH will stop fermentation – however, too little will not cause harm. 🙂
Flavor Combinations
I have tried carrot & dill, apple & ginger, used layered green and purple cabbage. You can also try adding garlic, carrots, brussel sprouts, spices, caraway or fennel seeds, even seaweed. Many variations have all been tried with great success! Let us know which kind you like best in the comments!
Be sure to join our community for more healthy blender recipes! If you try this one, share your rating with us below! Happy Blending!! 🙂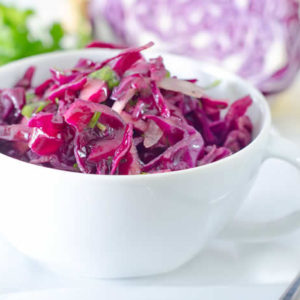 How To Make Raw Sauerkraut
Ingredients
1 to 2

heads cabbage or pre-shredded cabbage

1 to 3

tablespoons

pure sea salt

no additives

4 to 6

Mason jars or other 16 ounce glass jar with tight lid

1

very large mixing bowl
Instructions
IMPORTANT: Sanitize Your Glass Jars. (I start them boiling while I prepare the cabbage.)

Remove several outer layers of cabbage - at least 2 half leaf pieces for each mason jar.

Core then finely slice/shred your cabbage (or use pre-shredded to save time) and put into a very large bowl, 1/3 at a time, sprinkle salt onto the cabbage as you go.

With clean hands MASSAGE the salt into the cabbage to relese the natural moisture and aid in the brine process.

Place a small amount of cabbage into your jar and use a wooden spoon or other kitchen tool to SMASH/PRESS DOWN (HARD) to press ALL OF THE AIR OUT - and release more "brine".

Continue this process a little at a time (add a bit, press down, add a bit, press down...) until your jar is almost full, with about 1 inch left at the top.

Fold/roll up your full cabbage leaves and press them into the 1 inch space at the top. Remember you want AS LITTLE AIR as possible to allow for the fermentation process.

Add your mason jar lid OR a paper towel over the top tied with a rubber band.

Place your jar in a relatively cool corner of your kitchen where you will not forget about it.

Once a day, "burp" your jar by opening the lid to release pressure, then recap.

At about 5-7 days, take a taste! Raw sauerkraut is crunchy and salty, with a bit of a "sour" taste.

When your kraut is ready, place in the fridge to decrease the fermentation process.

When ready to eat a new mason jar full, remove the full cabbage leaves and enjoy!

All done! Enjoy!! Now take a photo, rate it, and share your accomplishments! 🙂 Tag @BlenderBabes & #BlenderBabes
LACTO-FERMENTATION HEALTH BENEFITS
Sauerkraut is full of your intestinal friend, lactobacillus acidophilus. Lacto bacteria like these are key players in a healthy gut. Lining your intestinal walls with friendly bacteria increases protective mucous production and decreases the chance for harmful bacteria to populate. L. acidophilus actually increases the amount of nutrients you can uptake from your food. Lactobacillus acidophilus is also a great benefit to your immune system, having shown benefits to patients with IBS, Chrons Disease, high cholesterol, lactose intolerance, Lyme disease, hives, and more! Be sure to join our community for more healthy living recipes!