Blendtec vs Vitamix 780
WHICH TOUCHSCREEN BLENDER IS BEST?
The Vitamix 780, is a G-Series Next Generation model and their first ever Vitamix with touchscreen controls.

As you may know, the Blendtec Designer Series (all touchscreen models) has been on the market for some time. Until now, this was a unique feature that separated Blendtec from the pack.

Now that there's some competition, I've been getting a lot of questions about which of these touchscreen blenders I think is the best value and overall winner in terms of quality, features and performance.
We all know people who have only owned 1 kind of car their whole life and would never dream of changing.
High-power blender enthusiasts are often the same! Both brands will always have diehard fans who will be loyal to Blendtec or Vitamix even as the different models change and evolve.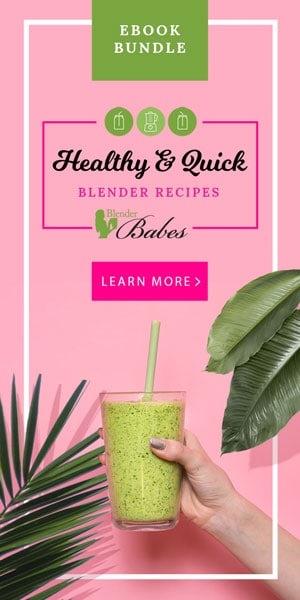 My quick take on this situation is this: when it comes to either of these touchscreen beauties, you just can't go wrong with any Blendtec Designer touchscreen model or the Vitamix 780.
Blendtec machines are considerably more powerful (more on that below). However, I personally have never found the difference in horsepower to prevent me from blending up any food, beverage or dessert I wished with a Vitamix.
Aside from the motor, you will find no major discrepancies in terms of performance, lifespan, or technology; and you will be joining the ranks of lucky Blender Babes and Gents with the newest, coolest, and most ultra-modern pro blenders on the market!
For this Blendtec vs Vitamix review – we are going to look at the top of the line in the Blendtec Designer Series, the Blendtec 725 compared to the top of the line Vitamix 780.
Rather than try to sway you one way or the other, here is enough detailed feedback to help you sort through the unique qualities of each.
BLENDTEC VS VITAMIX – COST
Blendtec and Vitamix blenders both have incredibly long lifespans – I'm talking 5, 10, or even 15 years longer than a regular blender. For this reason, you will end up investing more up front.
The Vitamix 780 currently retails for $719, and the Blendtec 725 retails for $679.
Both brands have awesome deals on refurbished blenders that include a full warranty.
Vitamix recently released a certified refurbished Vitamix 780 for $519 and added it to their (best deals going) refurbished Vitamix lineup!
Blendtec has a refurbished Blendtec 725 that's $549.
So, if cost is a major factor for you, you may want to look either at Blendtec, or a different Vitamix model such as the Vitamix 750 – which is almost identical to the Vitimax 780 (minus the touchscreen).
For both brands, refurbished blenders are LIKE NEW. The base housing, jars, cookbooks, tamper (with Vitamix) – everything is replaced.

Plus, you get FREE SHIPPING + EXCLUSIVE FREE GIFTS from Blender Babes! CLICK HERE to Learn More about our Free Gifts Offer for purchasing Blendtec or Vitamix blenders through Blender Babes. 🙂
BLENDTEC VS VITAMIX – PAYMENT PLANS
GOOD NEWS – you do NOT have to come up with the whole amount up front! Both brands will split it up into installments to make it easier on your budget.
♥ Vitamix offers Easy Pay through Paypal (USA) and a 3 or 5 Payment Plan Option (CANADA) when you're going through checkout, which you can order with a credit or debit card.
♥ Blendtec has 3, 6, or 12-month payment plans with financing through Affirm (great credit not required!).
This is NOT available at other retail outlets!
BLENDTEC VS VITAMIX – NOISE
Vitamix and Blendtec blenders are both robust, powerful machines that make a fair amount of noise! Fortunately they blend up most items very quickly (a few minutes or less).
The Vitamix 780 is a tad more quiet than the Blendtec 725 due to subtle difference in their motors (more on this below). The Blendtec 725, however, has tweaked their technology a bit making the 725 model a little less noisy than previous Blendtec blenders despite being more powerful.
For both blenders, the touchscreen does appear to muffle the sound a bit, but this is a very minor difference that I barely notice.
BLENDTEC VS VITAMIX – DESIGN
POWER
The Vitamix 780 is armed with an 11.5 amp, 2.2 horsepower motor. 2.2 HP can handle any whole food ingredient with no problem. If you've never owned a Vitamix, you will be amazed at how much it outperforms a regular blender's motor, which can struggle to blend something as simple as ice cubes.
The Blendtec 725 features their strongest motor yet, upgraded to a 15 amp, 3.8 peak HP design. This is a serious motor that can pulverize almost anything.
Will you notice a difference in these motors? Yes and no. I challenge you to find a food Blendtec can handle that a Vitamix can't! Without a doubt, Blendtec has a stronger motor. But unless you need to blend up your smartphone (downsizing?), I think you'll be just fine with both.
Note: if you have extra time to kill and would actually ENJOY watching someone blend an iPhone…be sure to check out the endlessly entertaining Will It Blend videos! 🙂
SPEED
The Vitamix 780 has a wide RPM range of 500 to 37,000 and at it's fastest, the blade tip speed can go up to 270 MPH. The ability to blend with such a low RPM is one of the advantages Vitamix has over Blendtec and other blenders. The Vitamix 780 also has the same 10 manual speeds as earlier models.
Compared to earlier models, Blendtec has upped their speed with the 725. At the lowest speed it goes 2500 RPM and at its fastest, can hit 28,000 RPM with a blade tip speed of 330 MPH. The Blendtec 725 has a ONE HUNDRED SPEED touch slider – which provides much more precision with manual control. Read more about this below.
SIZE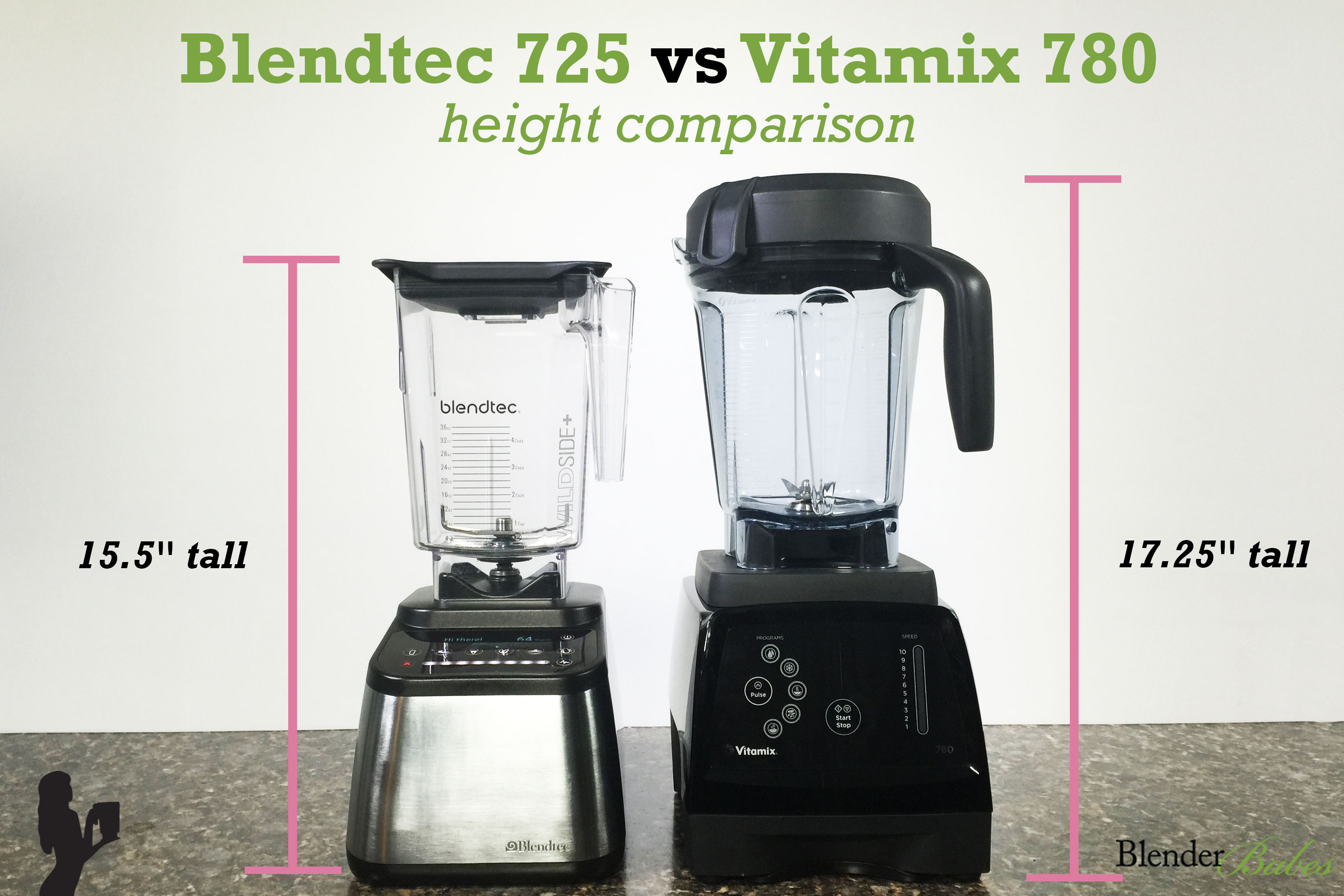 The Blendtec 725 is 15.5 inches tall with the Wildisde Jar and weighs in at 10.7 pounds. Like almost all Blendtec models, it easily fits under kitchen cabinets and stands its ground even if you're blending up a bunch of heavy or frozen ingredients.
The Vitamix 780 is 17 ½ inches tall with the Next Generation 64 oz. Low Profile Container – this is a desirable feature in the Next Generation G-series models because they will fit easily under most kitchen cabinets. At 12 ½ pounds it's heavy enough to stay put when you're blending items that might otherwise cause the blender to vibrate or move across the countertop.
One design feature Vitamix has over Blendtec that I like, is the 6-foot power cord wraps under the base so you can hide extra length from sight.
COLORS AVAILABLE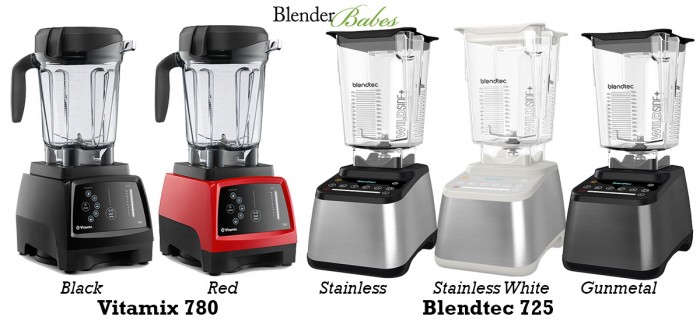 If you're a fan of bright colors, you may want to snag a red Vitamix 780. This model also comes in black.
Your color options for the Blendtec 725 are Stainless Steel, Stainless White, and Gunmetal (note: the refurbished Blendtec 725 only comes in stainless steel).
CONTROLS AND USER FRIENDLINESS
Both blenders have a flat digital touchscreen display. Gone are the protruding knobs, dials and buttons! The touchscreen may take a little getting used to, but the Vitamix 780 and Blendtec 725 are intuitive, contemporary, and fun to use (not to mention their cool futuristic look)!
A backlit hardened glass panel has replaced the Vitamix 780's manual knob and dial and it now responds to your touch. When you select a feature it lights up and turns blue.
For both models, you control the manual speed slider by gliding your finger along the responsive variable speed selector (unless you are using a preset).
Here is one major difference between the Blendtec vs Vitamix.
The Blendtec 725 has an incredible range of 100 speeds vs Vitamix's 10 speeds. When I say responsive, I mean VERY responsive – as in, hypersensitive to the touch. It's MUCH more responsive than the Vitamix manual speeds AND it has more precise control. You can barely move your finger to increase or decrease speed where with the Vitamix when jumping from 1 speed to the next sometimes there's a slight delay.
For more about the touchscreen controls, check out our Vitamix 780 unboxing and our Blendtec 725 review.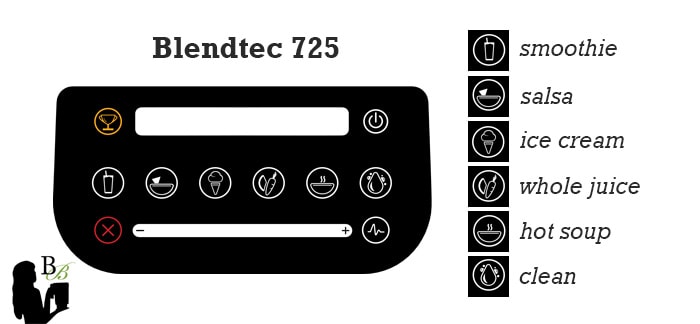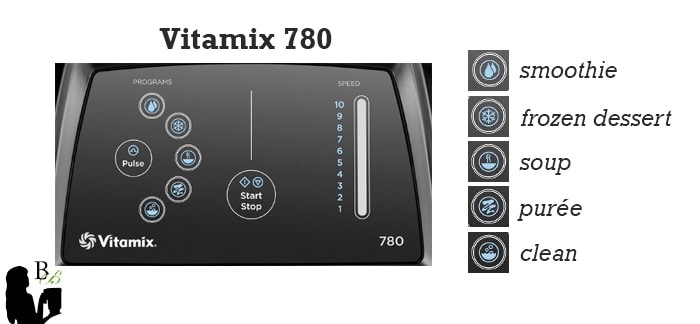 PRESETS
The Vitamix 780 and Blendtec 725 both have convenient pre-programmed settings that will come in handy all the time.
Vitamix 780 presets – found on the left side of the control panel – are (from top to bottom): Smoothie, Frozen Dessert, Soup, Purée, and Clean.
The Blendtec 725 has 6 presets from Left to Right: Smoothie, Salsa, Ice Cream, Whole Juice, Hot Soup, and Clean.
A few more notes about navigating the touchscreen controls.
On a Vitamix 780, choose the setting or manual speed you want then press START/STOP. Pre-programmed settings will automatically speed up, slow down, or stop after a certain amount of time (this will vary based on what you are blending).
For the manual option, press start, choose your speed and just turn it off when you're ready by pressing STOP/START.
Similarly, the Blendtec 725 shuts off automatically at the end of a pre-programmed blend cycle. Just touch your desired setting and walk away. You do not need a tamper to press ingredients into the blade (more on this later).
One feature I particularly LOVE that the Blendtec 725 has which no Vitamix has, is you can also add time to all of your blends!! You simply tap the chosen setting and each time will "Add 10" seconds. You can keep repeating up 90 seconds – letting you customize the presets to your needs and personal taste.
BLENDING CONTAINERS/JARS
All current Blendtec and Vitamix containers are made of heavy duty, BPA-Free copolyester plastic. For being so durable, you'll be surprised how lightweight they are. And if you happen to drop one – they are virtually unbreakable. (I mean, don't go out of your way to drop them off a skyscraper or anything…but they can withstand a lot! hmmmm… new Blender Babes video idea?!?)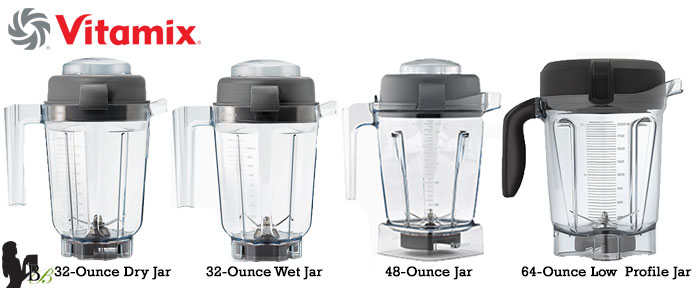 The Vitamix 780 has the Next Generation 64 ounce low profile compact jar. You'll love the Low Profile Jar, but FYI you may need to create bigger blends to get it to work properly due to the 4 inch wide base. Like all Next Generation blenders, the 780 is only compatible with the following Vitamix Jars: 48 oz. and 32 oz. jars (smaller portions such as single serve ice creams and nut butters work best with these sizes) and the special 32 oz. dry goods jar.
It is not recommended to use the classic tall Standard 64 oz. jar (used with many C-series models) on any Next Generation models due to the larger motor and newer air flow features. I didn't know this at first, especially since the jar fits on these models and it seems to blend just fine. However when a company tells you not to do something and there's sharp blades involved, I tend to listen!
Also it cannot be used with the S-Series personal blender jars.
All jars come with their own perfectly sized tamper – which you WILL use. One plus Vitamix containers have is you can usually fill them to the brim (hot liquids excluded!) without their super secure lids flying off! Just use that tamper to push everything down!
Note: Vitamix containers are NOT dishwasher safe. Once you're finished blending, wash and rinse as quickly as you can. TRUST. ME.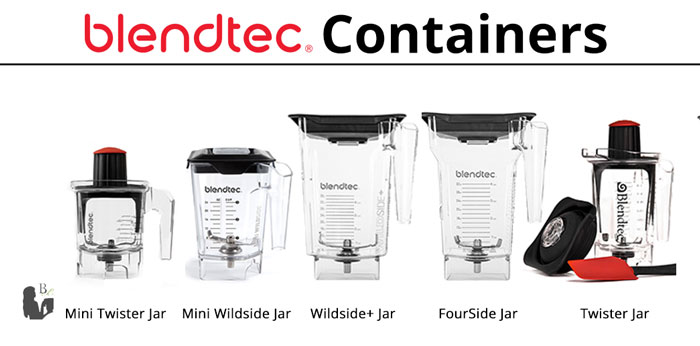 All Blendtec jars can be used interchangeably with all of their blender models. They can also all blend both wet and dry goods. Available Jars include:
♥ Fourside Jar – 64 oz. The original jar has a 3 inch blade. This jar used to come standard on blenders until Blendtec revolutionized the blending industry with the Wildside Jar. I use a Fourside Jar for grinding my dry goods since it pits and clouds the jar.
♥ Wildside Jar – Extra large 90 oz, 3 quart. This is their largest capacity container, it has a larger 4-inch blade.
♥ Mini Wildside Jar – 46 oz, measured 24 oz. Great for smaller blends. I like the new latching lid on this jar.
♥ Twister Jar – Blendtec's jar especially made for thicker dishes/purees such as nut butters, single serve ice creams, and smaller portions.
♥ Mini-Twister Jar – this is half the size of the standard Twister Jar, and you can use it for really small amounts and thicker dishes/purees (however my personal preference is the standard sized Twister Jar).
Blendtec jars have black measurements on the side which are easier to read. That said, you usually don't want to fill your jar much higher than the max measurement. The suction lids are not as strong as Vitamix and with that kind of power… you want to be able to press smoothie and walk away from the machine and not come back to clean green smoothie off the walls!
Note: All blendtec jars come with a single blunt blade that you cannot cut yourself on. They are also easier to clean, both by hand and they are also dishwasher safe – load the jar in the top shelf.
BLENDTEC VS VITAMIX PERFORMANCE
Vitamix and Blendtec are both commercial grade blenders that will be part of your life for a decade or more! Both of these brands are considered the best blender for smoothies which is why they are favored by the vast majority of smoothie shops. There is simply no ordinary blender on the market that will ever outlast either one.
Here's a breakdown of how they handle some of the many products you can create:
BLENDTEC VS VITAMIX – SMOOTHIE MAKING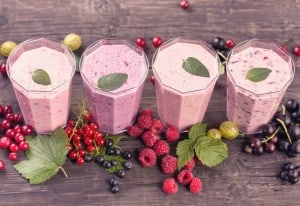 If you've never made a smoothie with a professional grade blender, you will love how different the end results are when you blend up fresh or frozen fruits and veggies with a Vitamix 780 or Blendtec 725. These newer models will create smoothies that are velvety and free of graininess or chunky pieces of fruit 100% of the time.
Both of these blenders have a SMOOTHIE pre-set which allows you to press the setting and walk away from your machine.
While cheaper blenders often struggle, overheat, or fail to thoroughly blend tougher ingredients like ice cubes, carrots, or frozen fruit, these machines do so quickly and without much effort – giving you the kind of high quality smoothie you would expect at a smoothie shop (you know, the places that charge $5 – $8 bucks or even more depending on the ingredients).
Bottom line: both will yield perfect smoothies.
BLENDTEC VS VITAMIX – JUICING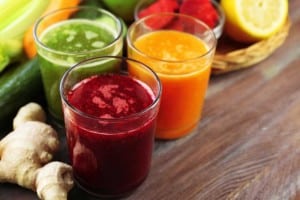 Many first-time buyers are pleased to learn they can make fresh whole-food juices with both a Vitamix and Blendtec. Unlike a traditional juicer that separates the juice from the pulp, these blenders use the entire fruit or veggie which means a few things: you will get all the fiber, and the finished product contains many additional vitamins and nutrients.
The Blendtec 725 has a pre-programmed WHOLE JUICE setting for 50 seconds. If I'm doing an extremely fibrous juice, this is where the "Add 10" feature really comes in handy. I usually add 10 to 20 seconds more and then I can walk away from the blender and start cleaning up my kitchen.
Since the Vitamix 780 does not have this pre-set, you would just use your manual settings starting on speed low and sliding your finger up to the highest speed. You many need to use your tamper to assist the blender by pushing the ingredients into the blades. You will then press the STOP/START setting when complete.
♥ While not required, some whole-food juice fans will run their juice though a strainer after blending.
♥ Whole-food juicing also requires much less produce. If you've ever owned a juicer you know how much fresh produce you need to buy to get just 1 small glass of juice (for example, you need around 6 carrots to get 1 small glass of juice).
Bottom line: The Vitamix 780 and Blendtec 725 both create delicious vibrant juices quickly and easily – no noticeable difference here.
BLENDTEC VS VITAMIX – SOUP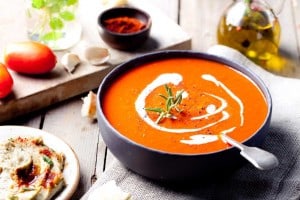 The "soup" preset is a great feature that allows you to make homemade hot soup. I love the fact that both Vitamix and Blendtec can take cold ingredients and turn them into piping hot soup via the friction created by the blades, and the process takes about 5-6 minutes. I just toss in my soup ingredients and hang out for a few, then dinner is ready.
Of course, if you use warm or hot liquid, your soup is ready even sooner!
The Blendtec 725 is a more powerful blender than the Vitamix 780 and therefore finishes the job slightly quicker. (This should not create any issues for most, as we are only talking about a time difference of around 90 seconds.) The Blendtec 725 soup setting is programmed for 90 seconds, so again you will use the "Add 10" feature for more time, usually it can go from cold to hot in 3-4 minutes. The Vitamix 780's soup setting runs for 6 minutes.
To make a chunky soup for either blender: add additional ingredients at the end, such as veggies, pasta, rice, cooked meat and quickly PULSE 2-3 times to chop the ingredients into the soup.
Bottom line: Both blenders can easily create delicious raw, hot and chunky soups in minutes!
BLENDTEC VS VITAMIX – CHOPPING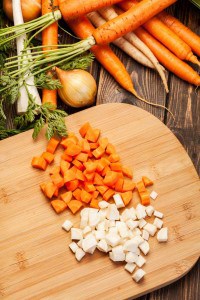 If you like the idea of saving time (and your wrists) from labor-intensive chopping, a high power blender can be a game-changer by taking care of this chore in literally seconds.
Both blenders can perform a wet chop and a dry chop depending on what you're making. I use a wet chop for cabbage and cauliflower rice, and a dry chop for grating parmesan cheese or onions (which I HATE hand chopping!)
To be clear, Blendtec and Vitamix blenders are not as good at chopping certain things as traditional food processors – the blades are powerful but unlike true food processors, they are blunt and not sharp. The Vitamix blades, although not super sharp, are sharper than Blendtec's 100% blunt blade and therefore more precise at chopping. Vitamix also has a lower RPM than Blendtec, which can also give you more precision and control when chopping. That said, the Blendtec 725 has an awesome range of variable speeds (much better than all their other models) that improve its ability to chop and dice.
Bottom line: Both machines can definitely get simple jobs done (think chopped veggies for your soup or omelet, or making salsa). If you need to chop up large quantities on a frequent basis, I suggest a conventional food processor – especially if you want you want your diced fruits and veggies to look pretty and precise.
BLENDTEC VS VITAMIX – GRINDING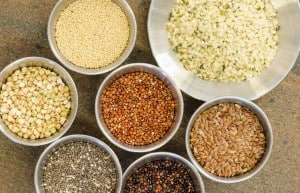 Vitamix and Blendtec blenders have multiple grinding capacities that would normally require a whole separate kitchen appliance!
You can use manual speeds to create things like fresh flours or finely milled flaxseed, chia or oats. It is also perfect for fresh-ground coffee!
♥ For the Vitamix 780 you may want their special dry goods jar to make flours (which has to be purchased separately). We have tested grinding with the regular wet jar and it WILL grind flours. However, the dry goods jar has a different blade that circulates the the outside, pushing the flour against the sides of jar. If you're going to grind flour all the time, the dry goods jar is a good investment, because over time flours will dull the wet jar's blades.
♥ The Blendtec 725 comes with a Wildside Jar. This and all the other additional jars and blades are designed to handle dry blends, so there's no need to buy an additional container.
Keep in mind that when you grind up hard grains, over time both the Vitamix and Blendtec containers will take on a cloudy appearance, as the flour pits the jar interior. If this matters to you, I suggest using 1 designated container solely for grains.
You may be surprised to learn that both blenders are pros at grinding meat! See our Blendtec vs Vitamix Meat Grinding review. For those of you who are not vegetarian, yet are health-conscious and wish to avoid processed foods and harmful antibiotics, nitrates, and other toxic meat additives, consider grinding your own meat so you can control the quality. I talked to a butcher about this and he said it's always better to buy fresh meat and grind yourself since the meat you buy already ground is older, among other things…
Bottom Line: Both machines are every bit as powerful as separate grain mill or meat grinder and can grind flours, seeds, coffee and meat to the consistency you desire.
BLENDTEC VS VITAMIX – ICE CREAM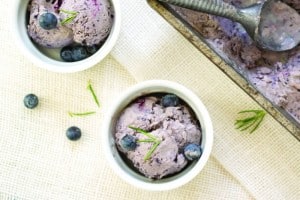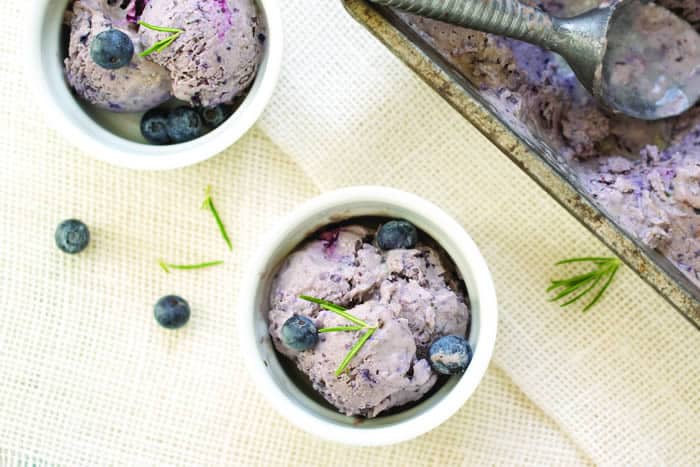 I am a huge fan of ice cream, and I have a long list of drool worthy Blendtec and Vitamix ice cream recipes that are dairy-free and often sugar-free as well. I love to make single servings of these guiltless desserts, and when I make them for friends they are often shocked to learn they are actually eating something healthy.
Both machines have ICE CREAM presets that give you ice creams and sorbets in less than 5 minutes!!! You achieve this by adding ice cubes and your desired ingredients.
The Vitamix 780 has a slight advantage because of their patented tamper. With the Blendtec 725, when the cold ice cream creates an air pocket around the blade, you'll have to stop blending and shake it out and continue blending. Pretty easy to do, however the Blendtec Twister Jar eliminates this issue and I highly recommend it.
There are a few tricks to learn in order to get your frozen desserts just right, but if you're an ice cream fan I highly recommend taking a few minutes to learn these tips and once you do, you'll be an expert. We cover everything you need to know for both blenders here: Blendtec vs Vitamix ICE CREAM TIPS.
Bottom line: Both blenders make delicious guilt free ice cream for you and the whole family.
BLENDTEC VS VITAMIX 780: CLEAN UP
Everyone has their #1 reason for deciding to finally buy a power blender. Like me, improved health might be the starting point of your quest. When I first watched a demonstration, the deciding factor for me was the SUPER EASY CLEAN UP!!
Vitamix and Blendtec jars and blade are all one piece, so you do not have to dismantle anything and carefully clean the separate blade, gasket, base and jar like regular blenders or blend and go type cups. They essentially clean themselves with a little soap and water! If you make as many smoothies as I do, you know the pain of having to constantly clean a blender. This will save you tons of time and work.
Unlike most of the other models they offer, the Vitamix 780 and Blendtec 725 both have a CLEAN preset. To use the clean preset you just add a cup of water and a drop or 2 of dish soap to the jar, place it on the base, and touch the 'clean' setting.
Once the blender is done you just give the container and lid a quick rinse with warm water to get the soap out – and you're done!
If you're making sticky things like nut butters, you will have to do a little extra work by hand – just be sure not to cut yourself on the Vitamix blade as it will remain inside the container. The blunt Blendtec blade can't cut you and is easier to clean around.
It might be tempting to procrastinate the cleaning (not nearly as fun as the "eating or drinking" part) – but it's best to do it right away as it will take a whole lot longer if you wait for ingredients to dry and stick to the container.
Note: Vitamix jars are NOT dishwasher safe. Blendtec jars are dishwasher safe, place on the top shelf. That said even though it's BPA free polycarbonate, it's still plastic. Only put in the dishwasher for the occasional deep cleaning.
Also, keep in mind that the smooth glass on both blenders is WAY easier to wipe down with the absence of protruding knobs and dials. Takes 2 seconds!
BLENDTEC VS VITAMIX: WARRANTY & DURABILITY
If you're going to invest in a professional grade blender, I firmly believe you should have a warranty to ensure you have peace of mind and no buyer's remorse! Vitamix and Blendtec are known for offering best-in-class warranties.

The Vitamix 780 comes with a 7-year warranty that covers all parts, performance and labor (and they'll even cover shipping both ways if you decide it's not for you within 30 days).

If you need a repair, Vitamix will fix it within 30 days; if they can't repair it, they will either give you another machine or a full refund. They also offer a 30-day money-back guarantee.

The Blendtec 725 comes with a full 8 year warranty (3 years for certified refurbished Blendtec blenders).

Like Vitamix, Blendtec also offers a full refund with 30 days if you are unhappy for any reason with your purchase. Unlike Vitamix, they do not cover shipping for repairs or returns.

Vitamix and Blendtec both have amazing customer service and will handle any issues professionally and quickly.
FINAL THOUGHTS
In our comprehensive Blendtec vs Vitamix review, you can find a point-by-point breakdown to help you figure out which brand will fit your specific needs.
The points listed below hold true for this Vitamix 780 vs Blendtec 725 comparison.
So…..
You may be a BLENDTEC 725 Blender Babe if:
You want a slightly more economical All-In-One Blender
You prefer 100% automation plus pre-programmed cycles
You want to be able to add time to your blends
You want to be able to put your jar in the dishwasher
You like a blunt blade that is easy to clean and you can't cut yourself on
You don't want to have to buy an additional jar for dry goods
You want to blend small volumes of ice creams, nut butters, and thick purees (will want the Twister Jar)
You want less expensive jars when they need replacing or additional
You want to own the top of the line Blendtec!

You may be a VITAMIX 780 Blender Babe if:
You need the greater RPM range for very specific recipes
You like a heavier blender
You like having a tamper to assist with blending
You plan to chop a lot and don't have a food processor
You want to blend small volumes of ice creams, nut butters and thick purees (will want a 48oz jar or smaller)
You want to own the top of the line Vitamix!
TELL US! WHICH TOUCHSCREEN BLENDER ARE YOU?! Vitamix 780 or Blendtec 725?


Happy blending!!
Congrats to our Super Giveaway Winner Theresa A!