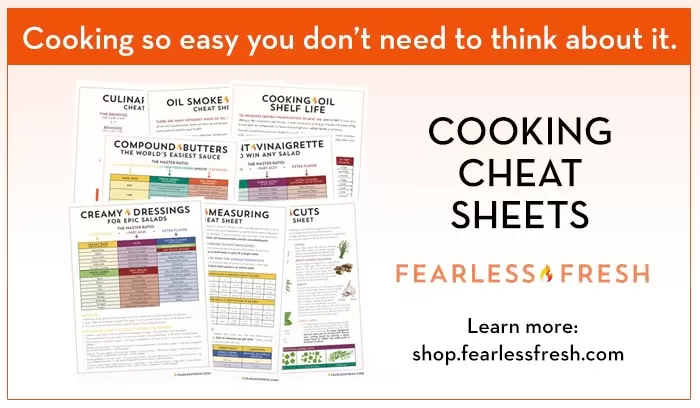 Cooking Cheat Sheets – Learn to Cook Without Having to Think
Hey there, I'm Stephanie Stiavetti from Fearless Fresh and the creator of Cooking Cheat Sheets. I'm a trained chef and cooking teacher, and even though I cook for a living, there's one fact I can't escape:
Cooking is a total pain in the ass.
Come on, you know it's true. Maybe you're running short on time, maybe you're feeling beat from a long day at work, or maybe you just hate the zombie-filled wasteland that every grocery store becomes between 5 and 7pm. The truth is that even chefs don't want to cook at the end of the day. Despite knowing how to cook, we're still tired.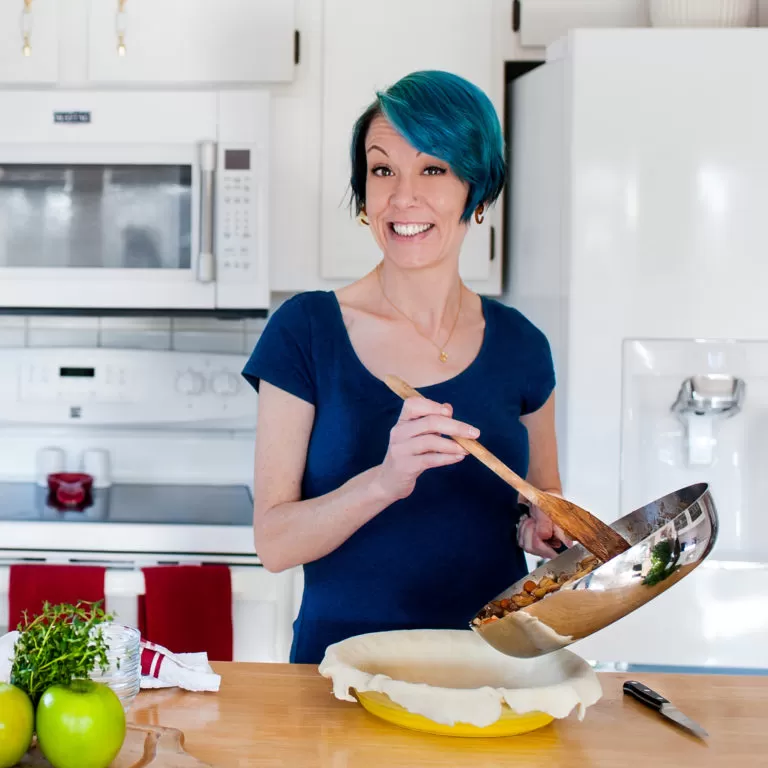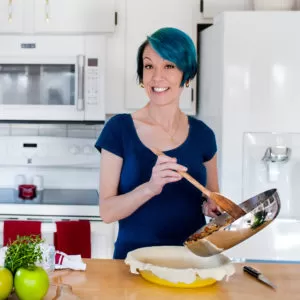 Then there's the whole cooking skills problem — if you're not confident in your cooking skills, the idea of sitting down to make a recipe can sound really unattractive (or downright scary).
But what if cooking were easy? What if it were a matter of just throwing a bunch of stuff into a bowl or blender and having it taste good, with minimal work or skill?
That's the whole point behind Blender Babes — power blenders make life SO much easier, because they make meal planning a breeze. For the most part you throw a bunch of stuff into blender, whiz it for a bit, and you're done.
But when it comes to regular cooking, like full-on dinner prep… it can be a huge hassle.
What if ALL cooking were so easy you didn't even need to think about it?
Like, what if it felt like second nature?
I've got a solution to the "cooking is a total PIA" problem.
Over the years I've worked with thousands of people who are tired of feeling like crap all the time and know that cooking at home is the only way to feel better.
When I asked my students what would help them to cook more often, they all said the same thing: "I wish you were here in the kitchen with me!"
Since I can't clone myself, I instead put all my cooking knowledge into something I call Cooking Cheat Sheets.
I've taken cooking and distilled it down to the most basic ratios and easy-to-choose-from tables of ingredients. So easy, in fact, that you don't need any skills to use them.
A great example is the Creamy Dressing Cheat Sheet. I give you a ratio, you pick a few ingredients from the lists I provide, you throw them into a bowl, and mix. Voila, instant ranch dressing (or green goddess, or whichever you prefer).
It's super-fast and tastes WAY better than the ranch dressing you buy at the grocery store, PLUS it's infinitely healthier, fresher, and cheaper.
Seriously, have you ever looked at the ingredients in a bottle of store-bought ranch dressing? Ugh.
Check out this quick video I put together for you, to show you what the cheat sheets are all about:
The other cheat sheets all follow the same path, making cooking so easy that it becomes a no-brainer.
I'm creating a new series of cheat sheets every quarter.
Series 1 contains guides that will make your salads more delicious, improve your knife skills, and even show you how to make the world's easiest sauce for vegetables, meat, and pasta.
The printed cheat sheets are heavily laminated and meant to last forever, with three-hole punching so you can put them into any standard binder.
The digital cheat sheets come in PDF format and are compatible with any digital device, and can even be printed out on your home printer.
There's also the Cooking Cheat Sheets bundle where you get both versions + a safe cooking temperature fridge magnet for a 25% off discount.
SPECIAL 5% OFF PROMO CODE: BlenderBabes5
I know how it feels: I used to suck as a cook.
Then my health took a nosedive and it was literally one of those "do or die" things when it came to cooking, because my body wasn't going to last another five years if I kept up with the young urban diet of burritos, Chinese food delivery, and Trader Joe's frozen enchiladas.
So I learned to cook and my health got better. Then I decided that I really liked cooking and went to culinary school and pastry school so I could teach others how to cook, too.
If I can do it, so can you.
If cooking seems like a pipe dream for you, or if feeding yourself is something you struggle with, then you should check out Cooking Cheat Sheets. Click here to learn more about how they can make cooking easier and a lot more fun.
SPECIAL 5% OFF PROMO CODE: BlenderBabes5