PEACH LIMEADE BOURBON COCKTAIL RECIPE
This peach limeade bourbon cocktail recipe is a fun way to utilize a peach surplus!
When the peaches are boiling in the pan, the whole house will smell very sweet, inviting, and cozy.
I like to use unrefined sugar for this recipe, and one of our recipe testers kept the nutritious and fiber rich skin on the peaches and LOVED IT.
Luckily for all – a power blender is not necessary for this recipe!
This cocktail is not too tart, with a smooth consistency and inviting color.
Picture sipping it out of a mason jar sitting on your porch with a warm breeze gently caressing your face.
It would also make a great addition to a party if you're looking for a cocktail for a group!
Be sure to join our community for more delicious cocktail recipes and tips from Blender Babes and our friends!
If you try this let us know by rating it in the comments. HAPPY BLENDING! 🙂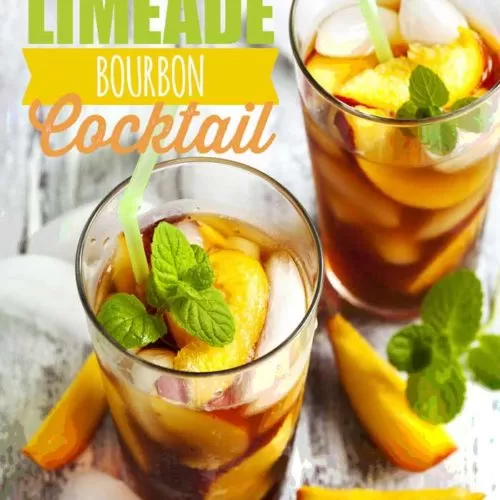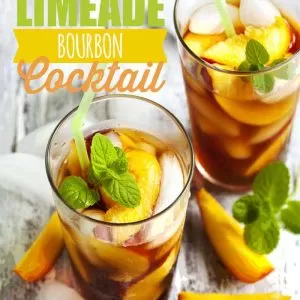 Bourbon Peach Limeade
Ingredients
2 ½

cups

water

⅔

cup

raw or coconut sugar

honey or maple syrup

4

peaches

,3 chopped and 1 sliced for garnish

1 ¼

cups

bourbon

1

cup

fresh lime juice

Ice
Instructions
Combine first 3 ingredients (only 3 chopped peaches) in a medium saucepan over medium-high heat; bring to a boil. Reduce heat, and simmer for 10 minutes, stirring occasionally. Remove from heat; transfer to a bowl set over ice water, and

cool to room temperature

.

Transfer peach mixture to a blender and blend until smooth.

Add bourbon and lime juice to your blender jar.

Blend on low to mix all ingredients together.

Serve over ice. Add sliced peaches for garnish if you wish

Enjoy! Take a photo and share your blender recipe with us! Tag @BlenderBabes and #BlenderBabes 🙂
Notes
1. You can substitute lemon juice for lime juice.
2. Drop some fresh mint leaves in for an added refreshing flavor.
2. Freeze fresh peach and lime slices on a parchment-lined pan and drop a few into your drink for a frosty garnish!
Nutrition
Serving:
0.75
cup
Calories:
168
kcal
Carbohydrates:
20.8
g
Protein:
0.4
g
Fat:
0.1
g
Sodium:
7.7
mg
Fiber:
1
g
Sugar:
18
g
BLENDER BABES RECIPE TESTER NOTES
"Deliciously sweet, maple-peach flavor of this drink was fantastic."
"I was VERY IMPRESSED at how the Peach mixture killed the strong taste of Bourbon and made them so amazingly sweet. First time ever that I actually enjoyed a cocktail that is made with Bourbon!"
"I think that this drink is actually perfect for this season as welcoming Fall! Perfect time for Peach Season! Nothing can go wrong with this drink, kinda of made me feel like I am in the South somewhere in Peach State (GA). Enjoy this strong but lovely and sweet drink!"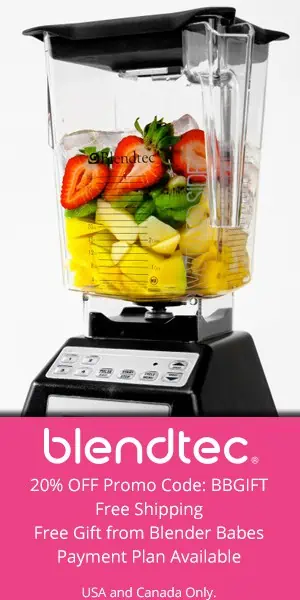 "This was a tasty drink. Not too sweet, just the right amount of sweetness to take the edge off of the bourbon."
COCONUT SUGAR HEALTH BENEFITS
Coconut sugar is the boiled and dehydrated sap of the coconut palm.
Thought it offers the same number of carbohydrates and calories, the benefits of coconut sugar are making it a hot commodity in the health food world.
Containing trace amounts of vitamin C, potassium, phosphorous, magnesium, calcium, zinc, iron and copper, coconut sugar offers more vitamins and minerals than white table sugar and may have less of a dramatic impact on your blood sugar than other types of sweeteners.
You'll also find the B vitamin inositol, often used as a mood booster and antioxidants in coconut sugar.
On the glycemic index (which measures the effects of carbohydrates on your blood sugar), coconut sugar ranks just 35 on this index, while regular table sugar ranks between 60 and 75.
Foods high on the glycemic index cause your blood sugar to spike, which can lead to a sugar rush and subsequent crash.
Fast spikes in blood sugar can also cause your insulin levels to soar in a short period of time, and this can have serious consequences for diabetics.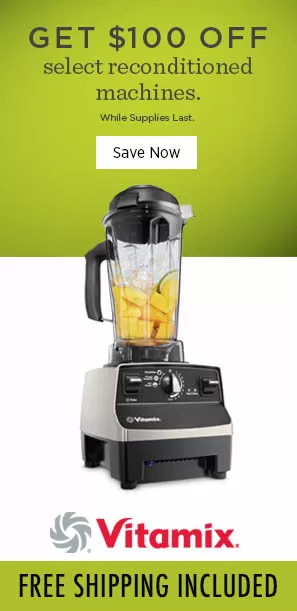 BONUS:  The United Nations' Food and Agriculture Organization named coconut palm sugar as the most sustainable sweetener in the world in 2014 since its trees use minimal amounts of water and fuel to grow.
It also has no artificial ingredients and is not chemically altered in any way.