Get FREE eBooks/Downloads for Your Health! Click Here 🙂
SEARED SCALLOPS WITH CREAMY CARROT PUREE AND MICROGREEN SALAD
Ever wonder how to create restaurant style seared scallops at home?  We're here to help!
This easy, impressive and deceptively lean dish will make you feel like you're enjoying a meal at an upscale restaurant minus all the excess fat, calories, sugar, salt and price tag.
This recipe is so balanced that you'll be burning fat and building muscle at the same time!
A high quality, non-stick pan will be needed to help you to get that perfect sear on your scallops.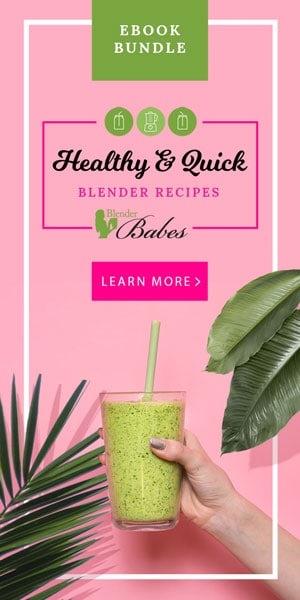 Then use your high-powered blender to make the creamy and sweet carrot puree.
Top it all off with a some micro greens to add acidity to the dish as well as Vitamin A and dive in!
---
Try amazing recipes just like this in Blender Babes' favorite meal planning tool/app.
Click here
to learn more and get our FREE 7-Day Slim Down Meal Plan!
---
If you try this recipe let us know by rating it in the comments. HAPPY BLENDING! 🙂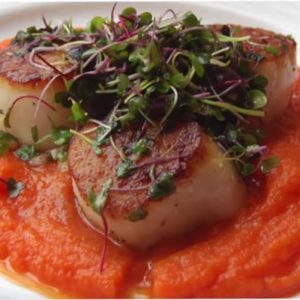 Ingredients
For the Carrots:
10

large carrots

peeled and chopped

32

ounces

of low sodium

organic, msg free vegetable broth

4

garlic cloves

peeled and smashed (don't chop!)

Sea salt

as needed

Honey

as needed
For the Scallops:
20

ounces

sea scallops

Extra virgin olive oil

Sea salt

as needed

Fresh ground black pepper

as needed
For the Salad & Dressing:
3

tbsp.

finely minced green apple

Juice from ½ lemon

About 3 tbsp. extra virgin olive oil

1

garlic clove

minced

Honey

as needed

Sea salt

as needed

Fresh ground black pepper

as needed

1

package of microgreens
Instructions
Clean and cut carrots as needed and then place in the pot with the garlic and vegetable stock. Bring to boil and then simmer them covered. Cooking time is about 30 mins. After they are cooked tender, place the carrots and garlic in the blender.

Remove the scallops from the fridge and allow to sit on the counter top to bring to room temperature. In the meantime, in a medium saucepan, simmer carrots with stock and garlic until tender.

Drain carrots, remove the garlic and reserve the liquid. Combine the carrots with 1/2 c cooking liquid in a blender.

For Blendtec: Press the SAUCES/DIPS/DRESSINGS/BATTERS button OR blend on a Medium to Medium-Low speed for 30 seconds. 

For Vitamix and other variable speed blenders: Select VARIABLE speed #1. Turn on machine and quickly increase speed to #10/high. Run for 30 seconds using the tamper, or until creamy, smooth and the texture of baby food.

Add some of the cooking liquid from the carrots if necessary to help to smooth out the puree. Sweeten with a drizzle of honey if needed. Season to taste with sea salt. Keep warm.

Season scallops with salt and pepper. Heat a large, heavy, non-stick pan over medium high heat. Once pan is hot, add a touch of extra virgin olive oil to the bottom of the pan and swirl to coat. Once oil is hot, sear scallops in batches until caramelized on each side, being careful to not crowd the pan and only turn the scallops one time.

While scallops sear, whisk together the ingredients for the dressing. Place the microgreens in a bowl and drizzle a little of the dressing on top- toss to coat (you will have leftover dressing).

To serve, plate each dish individually. Spoon creamy carrot puree on to a plate (this dish looks beautiful on a white plate). Place about 4 scallops on top. Top with the lightly dressed micro green salad. Enjoy!

All done! Enjoy!! Now take a photo, rate it, and share your accomplishments! 🙂 Tag @BlenderBabes & #BlenderBabes
Nutrition
Serving:
1
g
|
Calories:
223
kcal
|
Carbohydrates:
20
g
|
Protein:
16
g
|
Fat:
9
g
|
Saturated Fat:
1
g
|
Polyunsaturated Fat:
1
g
|
Monounsaturated Fat:
6
g
|
Trans Fat:
1
g
|
Cholesterol:
27
mg
|
Sodium:
529
mg
|
Potassium:
645
mg
|
Fiber:
4
g
|
Sugar:
7
g
|
Vitamin A:
20390
IU
|
Vitamin C:
9
mg
|
Calcium:
53
mg
|
Iron:
1
mg
HEALTH BENEFITS OF MICROGREENS
Microgreens is the universal term to call a variety of leafy greens that are harvested at a very early stage. This includes cilantro, arugula, basil, chives, and parsley. 
Though they have been available for quite some time in health food stores and some specialty farmers markets, their increasing popularity is due partly to their ability to pack a lot of flavor in a small amount, as well as their flexibility in being included in a dish.
The nutritional profile of each microgreen depends greatly on the type of microgreen you are eating.
Leafy greens are a good source of beta-carotene as well as iron and calcium. Dark green leafy vegetables such as kale and chard are also high in lutein and zeaxanthin.
Because microgreens require only minimal sunlight and space to grow, they can be grown in your kitchen or in a windowsill allowing you to control the type of microgreens as well as their growing conditions.