PLEASANTLY PEACH HYDRATING FACE MASK RECIPE
Enjoy this hydrating facial mask made from simple kitchen ingredients: peaches, honey, and water! Peaches contain natural alpha hydroxy acids to exfoliate and cleanse your skin, as well as Vitamins A and C to strengthen and protect it – both eating and topical application will have benefits, so dig in during peach season and give your skin a glowing boost. This will be made easily in your power blender, but could be made in a "regular" blender, too.
Be sure to join our community for more great Natural Beauty Skin Care recipes! Share your thoughts by including your rating below if you try this out! 
RECIPE: Pleasantly Peach Hydration Mask
AUTHOR: Blender Babes
YIELDS: 3/4 cups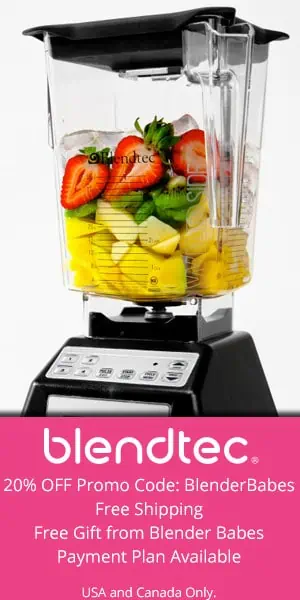 INGREDIENTS:
1 ripe organic peach, peeled and pitted
2 tablespoons raw organic honey (for sensitive skins, or those with allergies to honey – substitute honey with organic plain yogurt!)
2 tablespoons oatmeal
2 – 3 tablespoons filtered or bottled water

INSTRUCTIONS:
Place peach, honey, and oatmeal into your blender jar. Add 2 to 3 tablespoons of water (starting with 2 – add more if needed) and blend from low to high until smooth (about 30 seconds for a power blender, more with a regular blender).
Apply the mixture to clean, damp skin, leaving on for approximately 20-30 minutes before rinsing.
Follow with moisturizer of choice, and use leftovers in your next smoothie (really, why not?)!
All done! Enjoy!! Now take a photo, rate it, and share your accomplishments to enter our weekly photo contest! 🙂 Be sure to tag @BlenderBabes & #BlenderBabes

Note: If using a narrow or small jar (such as the Blendtec Twister Jar) – you can halve the recipe for a single use face mask.
HEALTH BENEFITS & FUN FACTS
Peaches help to regenerate your skin tissue, and using peach juice on your skin can give it a glow, and is especially beneficial for oily skin care regimens. Eating peaches, which contain a lot of Vitamin C, will alleviate dark circles and bags under your eyes, as well as prevent the creation of wrinkles. Peaches are also packed with vitamins that prevent skin deterioration and damage from UV rays.