♥ In Honor and Support of Bryan & Mary Walker ♥

Blender Babes is Donating $20 for EVERY VITAMIX SALE to Bryan/Mary's fundraising page until March 9th 2014 AND…
GIVING AWAY A VITAMIX!! ♥
We are using Rafflecopter, a reputable resource for online giveaways. In a few easy steps you will be entered in a drawing to win a Vitamix Standard blender (Certified Reconditioned). There are two required simple steps to enter, along with several ways to get more entries including a few you can do EVERY DAY! Yes, you can enter this drawing one time per day between now and March 31st, 2014!!

There's a lot of chances to WIN THIS LIFE CHANGING MACHINE!!! :)
After logging in using Facebook or your e-mail:
1. Subscribe to the Blender Babes' newsletter. If you are already you still just checkmark the box. :) (3 entry point – required)
2. Click on the link to check out the prize package (2 entry points – required)
3. Leave a Blog Post Comment and Tell Us: How Would Owning a Vitamix CHANGE YOUR LIFE?!
4. Like, Share, tweet, pin this give away, using the links provided, with your friends and family (2 entry points – can do once per day)
If you are outside of the USA, you are welcome to enter, however instead of the Vitamix Standard blender (Certified Reconditioned) you will receive an Amazon E-Mail Gift Card for the gift amount.
a Rafflecopter giveaway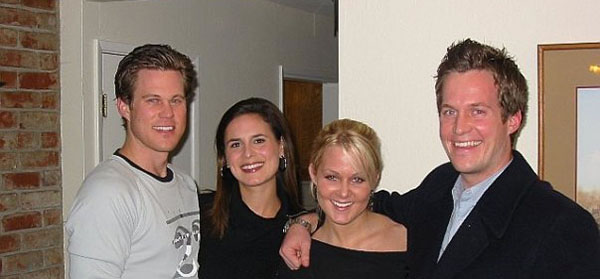 I hope this finds you and your family doing well! Thank you for taking the time to look over this as it is something very dear to me.

On March 9th 2014 I will be running in the Los Angeles Marathon in memory of my sister Mary Katherine Walker, who passed September 28, 2008. Mary had a heart as big as the world and a love for animals, life, and others.

I have dedicated myself in training before or after my day job selling Vitamix blenders, and on my days off consistently the last 9 months. Mary has been the driving force every time I have laced up my shoes, and been with me every step of the way. My Vitamix has also played an important role in making amazing smoothies and juices for nourishment and fuel for my runs and workouts. I don't know what I would do without my Vitamix!

To honor Mary's life I am asking family and friends to contribute any amount to a cause very dear to her, human trafficking. I have joined the Run for Hope team in her name, an official charity of the LA Marathon. All proceeds raised will go directly to the human trafficking program at the Dream Center, which rescues, rehabilitates and restores adult female survivors.

Remembering Mary Walker


My goals are to complete the marathon in under 4 hours and with your help raise a total of $3,000 to help in these survivors putting their lives back together.

Here is a link to Mary's fundraising Page on Dream Center where you can make any donations.


Whether you are able or not to donate any money please take a minute to watch one or both of these short tribute videos to remember Mary's life. Make sure your volume is on. :)

Mary Walker and U2's Bono "With or Without You"


Lastly, please share this by forwarding to any family and friends.

Thank you again for your time and help. God bless!

With Love,
Bryan Walker
HAS OWNING A VITAMIX OR BLENDTEC BLENDER HELPED CHANGE YOUR LIFE? Help Others by Leting Us Know
YOUR Inspirational Story!